Francois Nitunga, ECLEA-Burundi teacher


Report of Activities carried out at Rutana province, Muzye center from 7th to 12th May,2023, and Cankuzo province, Mishiha center from 4th to 9th of June, 2023

A. Introduction
We praise God that he enabled us to conduct the Marriage and Parenting course in four centers: Cankuzo, Mishiha, Rutana and Muzye. The training was successful as different testimonies can demonstrate it. Trainees from all our centers unanimously said that with the help of this book, they are going to be the solution of many couples which are being destroyed by lack of knowledge. "When the families are strong, the church will be strong too", they said.
Their open hearts, they decided after the training to go back into their local churches and organize many couple's trainings because they have find out that the only solution that can strengthen the church is when the families are well established. Praise the Lord!

Muzye trainees pose for a photo during the closing day of the session. They are happy to be together as a family.
B. The progress of the activities
As it is usual in our program, before starting a new lesson we give enough time to our trainees to share testimonies of what they have learn in the previous course as they put into practice the knowledge acquired in the book of Biblical Eschatology. Note that this is part of evaluation process. It is the time to encourage one another. We have realized that people who didn't do anything are ashamed as they listen to others did.
This is a family photo of Mishiha trainees who participated in the training. They are very glad to study this course and get manuals which will help them to train others.

"The book of Eschatology has challenged me so much. Said one of the trainees. Before attending this training, I was unable to understand the book of Revelation. I couldn't even prepare a sermon from this book. I was able to pick some passages from chapters 2 and 3; and then pick some other verses from chapters 21 and 22. Many church members have asked me so many questions regarding this book as eschatology is concerned. To say the truth, I couldn't answer them. Nevertheless, since I learned this book, things have changed. I am better now.
I thank God first who through Rema Burundi and the leadership of my local church was chosen to be part of this significant training. I believe also that this training we are in is transforming many lives of my fellow trainees. We won't be the same. Praise the Lord! In so many Theological Schools and trainings I have passed through, this course has raised so many questions that none even the facilitators could find solutions. This was a big problem for me and for the body of Christ. But now after gone through this book I have understood many eschatological issues as this particular book clarifies them. I am now satisfied. All my thanks to God, the leaders of my local church and to Rema Burundi. Please send my gratitude to the person who took his time to think to research and put together this course God bless him".

C. Marriage and Parenting course
After hearing different testimonies from what trainees have practice through the book of Biblical Eschatology, we took enough time to teach and explain them the book of Marriage and Parenting. We explained to the trainees that marriage is Christ centered biblical exposition and application of God's revelation concerning marriage and parenting. It looks at men and women as the image of God and the physiological, neurological and other similarities and differencies between men and women. According to the content of this manual, I explained them the origin and purpose of marriage and the role and responsibility of couples with particular attention to relationship, communication, sex, parenting, family planning, and what God, Jesus himself, the apostle Paul taught about divorce.

The trainees follow attentively the Marriage and Parenting course

D. Outcomes
The course was successful and the trainees followed it attentively as it was taught at the right time. One of the reasons is that, nowadays you find that most of the conflicts that are in the courts of justice, are linked to conflicts between couples looking for divorces. It is the same to our churches. The most of the problems that pastors face come from the couples and families. The District Superintendent of the United Methodist Church said that this course can be called named: "Save the Family Course", because we have noticed that Satan is aiming the couples / families to destroy the church. So, we need to be aware of his strategies and craftiness in order for us to plan how we to fight for him by using this manual, because this is the really answer of these issues. In many parishes, the only issue I met when I talk to some of the pastors and church Leaders as well, is that many couples, pastors couples included, are suffering. Many church leaders don't have time to dialogue with their wives yet, dialogue is one of the solutions proposed by this book which can help the couples to resolve the conflicts which oppose them. That's why I can confirm that this course is to named "Save the Family Course".
This leader ended his remarks by calling on pastors, church leaders, and other men and women who hears him, to reserving a precious moment of dialogue with his/her spouse.

One of the senior pastor at the United Methodist, at Mishiha took enough time whereby he shared testimonies regarding how this Teachings has changed his life and the life of others.


He testifies: "Before learning this course, I was not aware that my wife need enough time to talk with him. I was busy with church's activities from Monday to Sunday. I reached home every day in the night. But now after going through this manual, things have really changed. God first, the family and then the church. After applying these teachings in my family, my wife could notice a drastic change in love, communication, economy, and sex has become good because before it was not joyful as I was forcing it. From my family I have organized couple's trainings to share the experiences. Praise the Lord"!

A leader of Elimu Pentecost Church said: "In addition to the testimony of my fellow pastor shared, I would like to say that these useful lessons regarding couples, I also understood that our children must be educated, to mean that family planning is very important if I want to have a healthy family. Quite a few parents have given up on the education of their children because they are many and they can afford their education expenses. From that teaching, I have decided to change the way I was thinking, and doing regarding children education, then adopting and practicing the teaching found in this manual which obliged us to take care of our children, educating them, and giving them whatever they need for their physical and spiritual growth.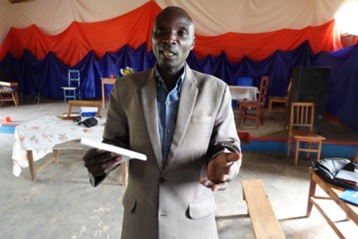 At Muzye center, one of the trainees was sharing testimonies. He said that this program will heal so many couples. "Many couples are finishing, dying, loosing hope, they don't know even the importance of being married. But this course has really come at the right time. We are going to do our best to heal many couples starting by ours".
We praise God that our trainees were very glad to follow the teachings on the book of Marriage and Parenting and have asked so many questions because this have challenged so many church leaders. It talks in details how spouses could live an enjoyable life which pleased God.Because Marriage is a plan of GOD.So,they need to be faithfull in marriage. Therefore a good marriage pleased to God. We need to please God through our marriage. It was very interesting.

More TESTIMONIES:
1. Praise the Lord! I would like to thank God for this powerful training regarding Marriage and Parenting. We are facing family difficulties including poor management of family assets, lack of communication between married couples,sex, child education,… so, this manual has come at the right time. It demonstrates the way couples should live according to God's will,and how they can manage to enjoy sex,assets management,…
2. Families and couples are divorcing.The courts odf justice are filled with disputes relating to couples. The problem is that they managed to marry without any preliminary teachings on marriage.So this manual will help us to overcome this challenge. Praise the Lord!.
3. Parents have abandoned their children's education. They don't care of what their children face. Children are often carried away by social networks, sexual vagrancy, drugs,… As their parents live in rural places, others in the interior of the country, they do not care about social networks. Some of them don't even use the android phones. So, this book have opened us our mind. We have discovered that we have lost our responsabilities. We have to change the we have acting in marriage and then live the life which pleases God.
E. Thanksgiving
We are thankful to God who enables us to hold this powerful training during the whole week of training and also guided us when we returned to our homes. Praise be to his name.
The book on Marriage and Parenting is more powerful because it contains the whole life of couples. It helps much in reinforcement of couple's life. It talks about The origin and nature of Marriage, God's will for wives and husbands, the five love languages, being a blessing to your family, sexual responsibilities in Marriage, Biblical parenting, Family planning, and what the Scripture teaches about Divorce. All these topics fit together to help and encourage and help couples to enjoy their life and live a blessed life which pleases God.

A family photo of Cankuzo students